Land & Construction Loans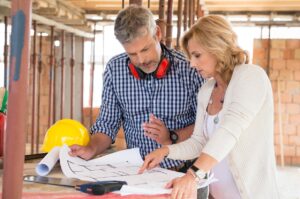 There are several different options available to you when you are looking to achieve your dream to purchase a property.
One of the most popular methods to buy real estate property is to opt for a land and construction package, as it comes with many benefits for the owner occupied home.
Opting for the land and construction loan choice, you have two options: to either buy land only first and build later, or choose a land and build package.
When you buy land only
Financial institutions can provide finance to assist you purchase land, with the expectation that the land will be approved within a set time frame for the construction of a dwelling, for either personal or personal investment use.
Most lenders will agree to let you borrow up to 90% of the valuation of the land, although some will allow you to lend up to 95% in certain circumstances.
In most instances, the lender will provide funds based on the value of the land only.
However, if your intention is to improve the land by way of construction of a dwelling, the lender may look at the value on an "on completion" basis. This may include the value of the land, plus the cost of contruction – but it can vary from lender to lender.
Some of the common features available are:
Construction of a dwelling required within a set time frame (6 months to 5 years)
Loans against vacant land value
Loan restrictions based on maximum land size
Loans restrictions based on zoning. ie: Residential, Rural or Residential/Rural
Land & Build package / Buying off the plan
This method of purchasing a property is another popular choice, as you can save while still being able to build your own brand new home.
Under this method, lenders start with approving the total loan amount and settling the land, and then later the construction loan portion. Payments during the construction phase are generally released in five stages in accordance with a regulated building contract.
The five stages are normally as follows:
Deposit 5% (Normally buyer makes this payment before sign the contract)
Base 15%
Frame 30%
Lock up 19%
Fixing 21%
Completion 10%
When purchasing land and planning to build, you will need professional help to assist you with the right tools to navigate through the processes of buying property/ land – and we are here to assist in any way we can!
We will help to ensure you choose the right loan to suit you.